With the Android 11 release, Google changed how apps store and access data. This change is intended to increase security and decrease the amount of clutter that apps leave on your device. The new functionality is called scoped storage and you can read more about the technical details here. As a result of the change, our Android app needs to run a conversion to move game data from the old location into the new scoped storage location. This change has no effect on the iOS version of the app.
This conversion needs to be run on your device prior to November 1, 2021 or you may lose access to your saved games. This applies to all Android devices, not just those that are running Android 11. All you need to do is open the app to start the conversion.
How Will the Conversion Run?
After the Vorpal Board app update is rolled out to your device, the next time you start the app you will be prompted to run the conversion. This is required and you cannot continue using the app until it is complete. The conversion should take less than a minute and you should not close the app while the conversion is running. If you do not want to run the conversion at that time, you can tap QUIT and the app will close.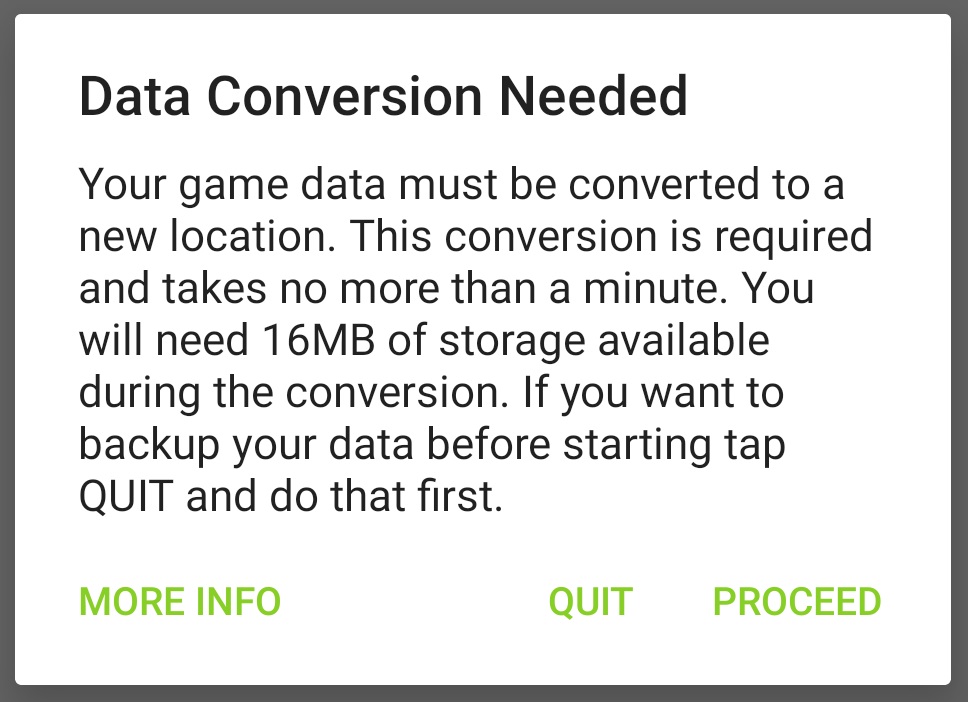 What Does this Mean for Me?
For normal use, the conversion should have no impact. After your data has been moved to the new location everything should function as it always has. However, there are two important changes for you to understand:
If you uninstall the app, your files will be removed along with it. Previously, your files would remain on your device after an uninstall but this is no longer permitted by Android.
Due to permissions changes in Android 11, the files that the Vorpal Board app uses are no longer permitted in the general internal storage location. All data will be moved to the storage location that is allocated for the app. If you had been manually placing files onto your device or backing up your saved games, you will now need to look for those files in the app specific storage location. That location may or may not be accessible to you depending on what version of Android is on your device and what method you were using to access the files.